SilverSchmidt CONCRETE TEST HAMMER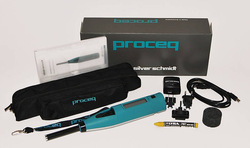 Category: CORING, CUTTING AND NDT
Product Code: NON-DESTRUCTIVE TESTING
SilverSchmidt- The Original SCHMIDT fully
integrated electronic Concrete Test Hammer
Compliance with industry Standards
- Data collection and processing of test results comply with major industry
standards EN 12504-2, Env 206 ASTM cans, es iasi Pen 202, ASTM D5873
(Rock), JGJ/T 23-2001
Measuring the true Rebound Coefficient
("Q"-value)
The classic "R"-value is the mechanical travel of the mallet on rebound. It is
affected by its friction on the guide rod, the friction of the drag pointer on the
scale, the influence of gravity during its travel, the relative velocity between unit
and mechanical parts. This is true for all concrete test hammers currently on the
market.
The "Q"-value [=rebound velocity divided by inbound velocity] represents the
physical rebound coefficient. It is virtually free of all the above error sources. It is
thus the indicator of choice to be used as a basis to convert to compressive strength.
The SilverSchmidt acquires the "Q"-value by measuring the velocity of impact and of
rebound immediately before and after the impact.
The "Q"-value need not be corrected for impact direction. There is however a clear rela-
tionship between the "10" and the "R"-value.
Averaging and Conversion
To obtain a reading in units of compressive strength select:
- Desired unit
- Length of series and averaging mode
- Carbonation depth (if applicable)
- Form factor
- Conversion curve for concrete mixture
Perform a test series of specified length.
Manual cancellation of obvious outliers is possible. At the end of the series, the
instrument will display the average converted to the desired unit.