MIXING AND MOULDING EQUIPMENTS - II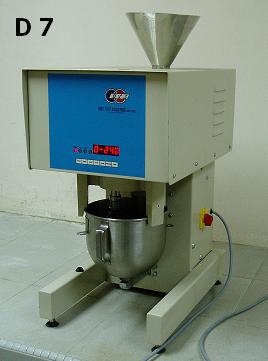 Category: CEMENT AND MORTAR
Product Code: MIXING AND MOULDING EQUIPMENTS - II
Motirized Jolting table apparatus,
EN-196-1
Used to compact cement mortar prism mould 40.1 x 10 x 160mm and drop
heigh of 15mm with 60 drop per minute. Manufactured according to EN 196
-1 requirement standard. The control panel fixed with main switch, auto digital
counter and push button safety switch.
D5-B
Vibrating Table
EN 196-1
Another alternative for compacting cement mortar prism of 40.1 x 40 x 160 mm is by using this type B vibrating table. it has a flat table mounted on a supporting frame with a
controller box for adjustment of the correct amplitude that is equivalent to the compaction characteristics of the jolting table.The prism mould is attached securely to the table by using swing bolt clamps.
D6
3-gang Mould 40.1 mm x 40mm x 160mm, EN196-1
These mould is made from Hardness Steel and all surface are grinded and
marked with identification number for correct assembly. It meets EN 196-1
Standard requirement.
Weigh: 9.5 kg
Accessories:
D6/A Feed Hopper, EN 196-1
D6/B Large Scrapper, EN 196-1
D6/C Small Scrapper, EN 196-1
D7
Unit Test Automatic / Manual Mortar Mixer,
EN 196-1, EN 196-3 and BS 3892
Used for mixing cement mortar, 5 liters capacity Stainless Steel Bowl with
Stainless Steel Beater. The beater revolves about its axis and is driven around
the bowl in planetary motion. Two speed of mixer blade can be selected)Auto
or Manual). Low speed is 140rpm for blade and 62rpm for planetary movement.
High speed is 285rpm and 125rpm respectively. The unit fixed with automatically
till into the mixing bowl after a period of 30 second after 60 second, it will
automatically change to High Speed. The digital timer is displayed the mixing
program(Scheme) accordance to EN 196-1 requirement. Also can be manually
operated control of low and high speed by sensor touch key pad.
ACCESSORIES AND SPARES:
D 7/A Stainless Steel beater, with fitting accordance to EN 196-1
D 7/B Stainless Steel bowl, 5 liters capacity accordance EN 196-1
D 7/C Scraper made from plastic 200mm long