DIGITAL COMPRESSION TEST (PRESS) MACHINE WELDED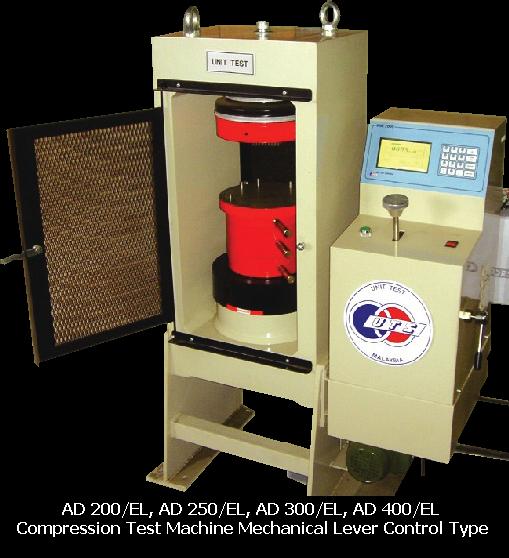 Category: CONCRETE
Product Code: DIGITAL COMPRESSION TEST (PRESS) MACHINE
DIGITAL COMPRESSION TEST (PRESS) MACHINE
1500/2000/2500/3000/4000kN DIGITAL COMPRESSION TEST (PRESS) MACHINE
Model: AD 150/EL, AD 200/EL, AD 250/EL, AD 300/EL, AD 400/EL DHR Digital Readout
The Unit Test Digital Readout Compression Test Machine has a similar feature as the gauges model UT version.
The different it has a DHR 2000 digital readout head that could connected on to computer or serial printer with a RS 232 cable for result print out or computer storage in database optionally. The DHR digital readout could also be fixed to any of our range of testing machine, including the flexural test machine.
The integral digital load pacer with a visual error brand Display enables the operator to maintain an accurate loading rate on the specimen. Optional Cement / Mortar Testing Frame 250kN or Flexural Test Frame 100kN Capacity can be fixed to all the AD or ADS digital readout Compression Test Machine by using second channel of the digital readout. All machine supplied with standard distance piece up to test 15cm cube.
Motorised Hydraulic Power Pack with Rapid Approach Pump
There are two type of hydraulic power pack either mechanical lever control type or semi-auto electronic servo motor type (silent type) same as automatic version pump unit. All the power packs are standard fitted with rapid approach pump system to allow test specimen fast contact to the machine's top platen.
Capacity 1500, 2000, 2500, 3000, 4000, 5000kN
l Available in Rigid Welded (slab) or 4 column Frame
l Designed for laboratory use.
l On screen +/- display for loading rate and setting all the specimen requirement in the test.
l Password protected keypad for Calibration.
l Port for computer or printer.
l Machine Frame standard B.S. EN 12390 Annex A – Force Transfer Optional
l Calibration accuracy to B.S. EN 12390 Class 1, ASTM E4, AS 2193 Grade A
l Silent efficient semi-automatic power pack or level control type
l Suitable for main laboratory or central laboratory use