BLOCK / CUBE COMPRESSION TEST (PRESS MACHINE ACCESSORIES)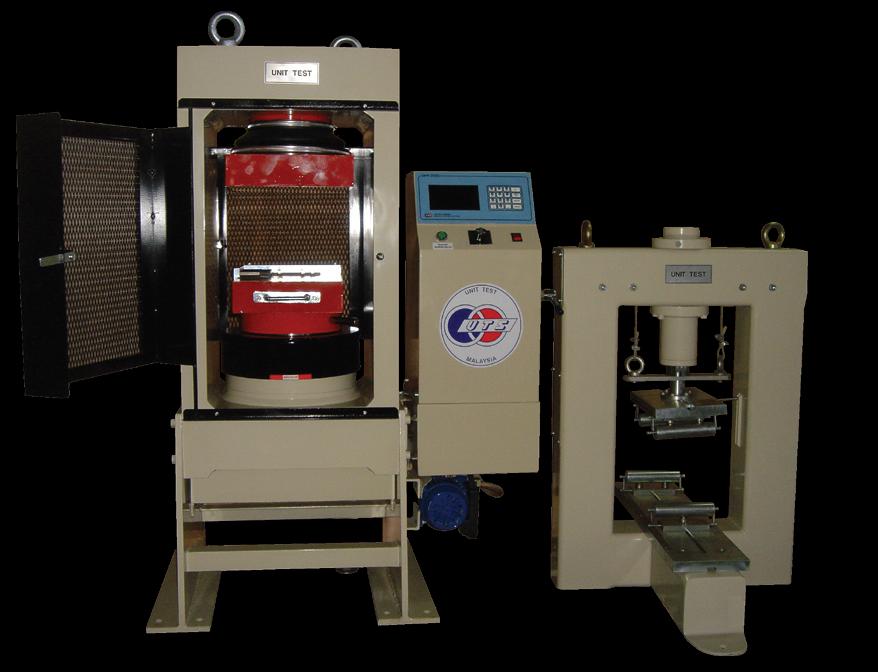 Category: CUSTOM MADE COMPRESSION TEST MACHINE
Product Code: BLOCK / CUBE COMPRESSION TEST
1000 / 2500 / 3000kN BLOCK / CUBE
COMPRESSION TEST (PRESS0 MACHINE ACCESSORIES)
Standard Distance Pieces
The distance pieces are designed to reduce the amount of clearance of the upper platen to the top surface of the specimen. The standard size of the distance pieces are normally 200mm in diameter accordance to the EN 12390 specification requirement. The distance pieces are optional supplied with traceable factory work certification on Flatness and Parallelism Test. There are two types of steel distance pieces with or without hardened.
Distance pieces with hardness value can be provided upon request.
Auxiliary Platen
UA 150/EN
Auxiliary Platen 150mm square x25mm Thick.
Supplied with Factory Work Certificate.
UA 100/EN
Auxiliary Platen 100mm square x 25mm Thick.
Supplied with Factory Work Certificate.
DISTANCE PIECE SPECIFICATION
| | | |
| --- | --- | --- |
| Distance Thickness | Standard Distance Piece | BS Distance Piece (Hardened) |
| 20mm | UD20 | UD20/BS |
| 30mm | UD30 | UD30/BS |
| 50mm | UD50 | UD50/BS |
| 60mm | UD60 | UD60/BS |
| 80mm | UD80 | UD80/BS |
| 100mm | UD100 | UD100/BS |
ADS 200/EBL, ADS 250/EBL, AUTOMATIC BLOCK/CONCRETE TEST MACHINE
AD 200/EBL, AD 300/EBL SEMI AUTO BLOCK/CONCRETE WITH 100kN FLEXTURAL FRAME
Rapid Approach Pump
All Unit Test Machines are standard fit with rapid approach pump.
All Unit Test machine are supplied with standard distance pieces to test up to 15cm cube.
Rectangular Platen
These platens are designed to test various size of concrete block in accordance to B.S. 6073. The platens are manufactured from high quality steel and hardened and finished to the standard requirement.
The upper and lower rectangular platens size 450mm x 240mm x 75mm thick are attached to the Machine Standard ball seating assembly or over hang the top platen with rail backet. For the Machine meet B.S EN 12390 Annex A-Force Transfer and fixed with rectangular platens, it advisable to test the block or non-Standard block specimen occasionally, otherwise it may damage and cause the alignment of Top platen out of standard requirement.
UB-75R
Rectangular plate size: 450mm x 240mm x 75mm thick
UB-50R
Rectangular plate size: 450mm x 240mm x 50mm thick
Concrete Masonry Block Machine
Standard Specimen can be test including:
l Cylinder up to 320 x 160mm diameter
l 200, 150 and 50mm cube.
l 50mm and 70.7mm / 2inches mortar cube.
l 40 x 40 x 160mm mortar prism
l 150mm and 100mm square concrete beam.
l Masonry block specimen up to 215mm high
l Flexural / Transverse that on Krebs and flagstones
l Bricks and pave blocks
ADS 300/EL, ADS 250/EL, ADS 200/EL AUTOMATIC WITH 100K=kN FLEXURAL FRAME (FT-100)