SOIL CLASSIFICATION - I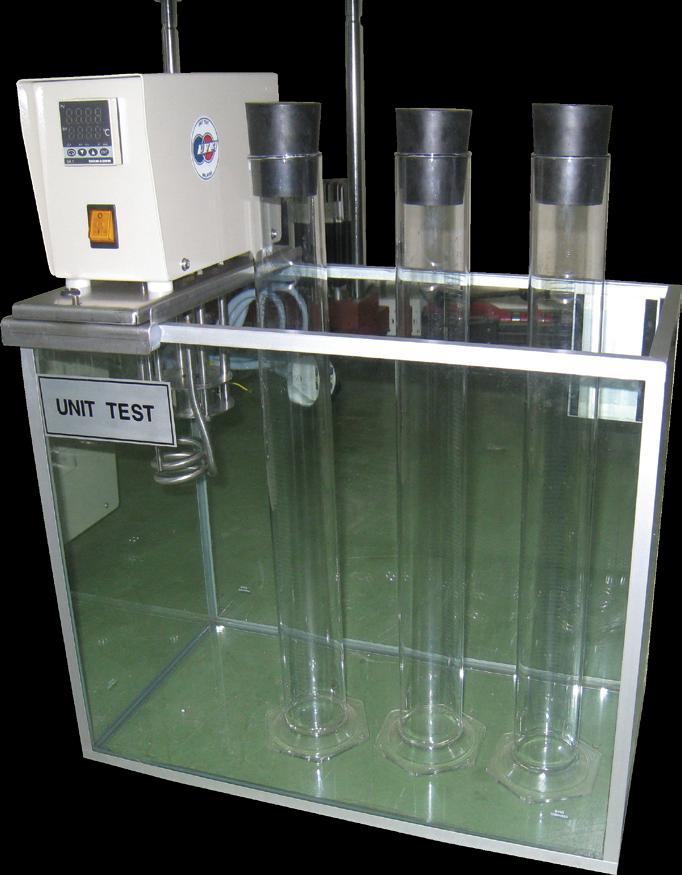 Category: SOIL TESTING
Product Code: SOIL TESTING
BS 1377, ASTM D 427, AASHTO 92, ASTM D 422
S 36
Plastic Limit Set
ASTM D 431 B, AASHTO TBD, BS 1377:Part 2 S
Used to determine the lowest moisture content of a soil.
by wich a sample can be rolled into threads 3mm dia. without
breaking the same neither longitudinally or transversely.
The set consists of:
S 36-01 Grass plate 300 x 2550 x 10mm
S 36-02 Rod calmer 3mm diameter
S 36-03 Mixing porcelain dish. 120mm diameter
S 36-04 Flexible spatula 100mm blade
S 36-05 Aluminium moisture this diameter 55 x 35mm. (QTY: 6nos)
S 36-06 Plastic carrying case
S 37
Linear Shrinkage Mould (BS 1377:2)
Made of brass, semicircular section, radius 12.5mm x 140mm long. Measurement
in length of the soil samples is the "linear shrinkage"
S 37-01
Identical as above but with 254mm long.
S 37-02
Standard: ASTM D 427, AASHTO T92, BS 1377:2
Shrinkage Limit
For determine the maximum moisture content at which the soul does not
shrink after drying the sample Weight 2kg approx Consists of:
S 37-03 Shrinkage dish, 45mm dia x 12.7mm (H)-2 pieces
S 37-04 Crystallizing dish, 57mm dia x 32.7mm (H)
S 37-05 Shrinkage prong plate. made from plexiglass maternal with
three metal prongs
S 37-06 Glass evaporating dash, 120mm dia flat bottom
S 37-07 Graduated cylinder 25ml capacity
S 36-05 Flexibal spatula. 100mm long blade
S 36-03 Plastic carrying case
S 38
Glass Thermostatic Water Bath
With water circulation use for the sedimentation testing of soil and line grained
material. The tank will accept up to six sedimentation cylinder and dimension
are 490 x 250 x 400mm deep, with 1500 watt heater, and circulating unit
which control the water temperature by digital controller up to 100c, 0.1c resolution.
Power: 240V, 50Hz, 1pH
S 39
High Speed Stirrer
Complete with removable stainless steel dispersion cup.
Speed: 10,000rpm
Power: 240V, 50Hz, 1pH
S 40
Gas Jar (BS 1377)
1 Litre capacity, complete with rubber bung and glass cover.