PERMEABILITY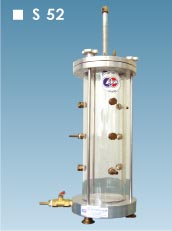 Category: SOIL TESTING
Product Code: PERMEABILITY
S 52 Constant Head Permeability Cell
With Transparent cell wall, 75mm ID. retained between 2 end plate and 3 pressure take off point.
S 52-1
Identical to S 52, but with 114mm ID.
S 52-2
Tubing and connectors.
S 53 Manometer Tube and Stand
With 3 glass tube of constant bore, scale metre, tubings and mounted on wooden free­standing panel.
S 53-3
Stand with 4 nos roller wheels.
S 54 Constant Level Water Tank
Made from transparent plastic with wall mounting bracket and supplied with connecting tubing.
S 55 Compaction Permeameter (Falling head)
4" diameter 101.6 x II 6.4mm mould body with top and bottom caps and valve. These permeameter are generally used for test on granular soil. Compacted according to Proctor or CBR 6" method, they are suitable for both falling and constant head test.
S 56 Stand Pipe Panel
Consists of 3 glass tube 1.4metre long with bore 1.5mm. 3mm and 5mm diameter, scale metre and mounted to wooden panel with fixable tubing and 3 way outlet valve for falling head test.
S 56-1
Steel constant water level tank
S 56-2
De-airing tank with 20 litres capacity.
S 56-3
Vacuum pump with gauge, connected tubing and fittings.