COMPACTION AND CBR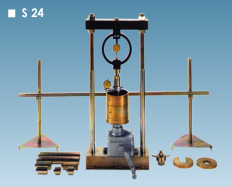 Category: SOIL TESTING
Product Code: COMPACTION AND CBR
S 24
ln-situ and Lab CBR, Hand Operated. 50kN Capacity
With 2 speed mechanical jack, mounting bracket with ball seating attachment, set of extension rod, dial gauge holder, tripod, frame, 50kN bad ring fitted with dial gauge 12mm x 0.002mm per division and calibration certificate, datum bar assembly, penetration plunger, dial gauge 20mm x 0.01 mm, and 2nos surcharge weight 2kg.
S 24-01
Lab CBR Conversion Frame
2 column type, use for Laboratory CBR Test to accept above CBR mechanical Jack.
S 25
Motorised 50kN CBR Test Machine, bench mounted
Two speed BS and ASTM. l.Omm/min and 1.27mm/min
Fast platen adjustment for Forward / Reverse
Complete with stabiizing bar
Power: 240V 50Hz I pH
S26
Motorised 50kN CBR/Marshall Test Machine, bench mounted
With Microprocessor Speed Drive Control and simple selector switch tor 3 speed. I.Omm/min |BS) 1.27mm/min (ASTM) and 50.8mm/min |Marshall). A rapid platen adjustment switch is provided for forward and reverse on CBR Test. Power: 240V. 50Hz, IpH
Accessories:
S 26/A Penetration plunger
S 26/B Dial gauge holder with stopper
S 18 Dial gauge 20mm x 0.01 mm per division with certificate
TM 3 Stability mould (breaking head),open type.made from steel with inside dia.
4" to dimension given in BS 598
TM 4 Flow meter (dial gauge) with 10mm travel x 0.01 mm resolution and stopper unit
TM 5 Stability mould holiding plate