DIGITAL HUMIDITY CABINET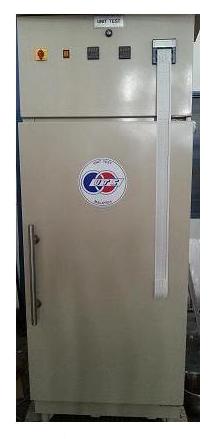 Category: CEMENT AND MORTAR
Product Code: DIGITAL HUMIDITY CABINET
D8
Digital humidity cabinet
EN 196-1, ASTM C31, ASTM 0191, ASTM 0192
This humidity cabinet is designed to store mortar samples at constant temperature and
humidity prior to curing in water or physical test. Both the temperature and humidity
value are input by user easily and option to switch on or off the recording chart for
future reference. The cabinet has two layers of insulation, that is the main outer door
and inner transparent door to ensure the temperature and humidity remain consistent
for the duration of test. Its main water tank has a sensor to alert the user in case the
water level runs low.

Power supply : 220 ~ 240 VAC, Single phase, 50 Hz
Internal dimension (mm) : 540 Width x 540 Depth x 1100 Height
External dimension (mm) : 740 Width x 950 Depth x 1870 Height
Temperature range : 15 ~ 30c
Humidity range : 60 ~ 99 %RH
Weight : 300 kg