SAMPLING , CONSISTENCY AND WORKABILITY - I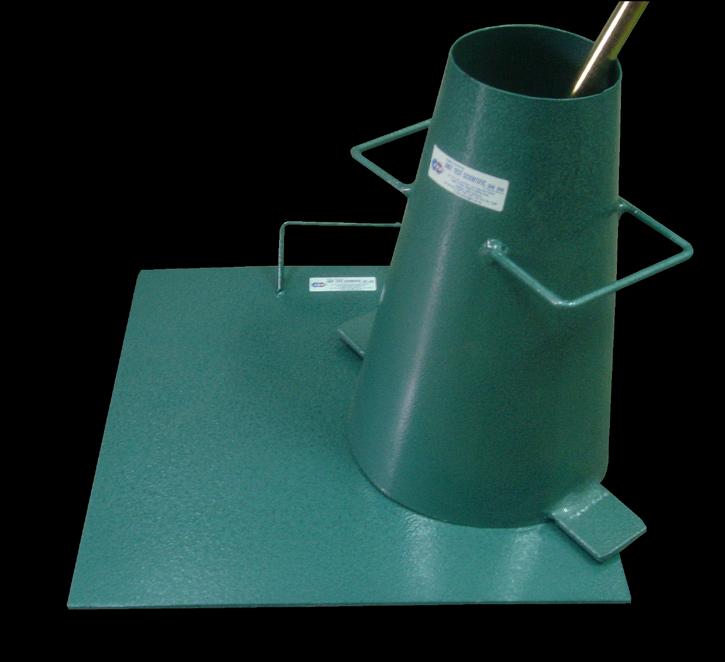 Category: CONCRETE
SKU: SAMPLING , CONSISTENCY AND WORKABILITY - I
Product
Info
Description
Specification
SLUMP TEST
Standard: BS 1881,ASTM C143, AASHTO T119
Designed for measuring Cohesive, Plastic Mixtures of Concrete and Compose Aggregate smaller than 50mm
C1
Slump Cone
BS 1881, BS EN 12350.2, ASTM C143
Used to determine the consistency of concrete
mix's having medium and high workability. l
The set comes with tamping rod and base plate
Manufactured from sheet steel with paint protected.
Spares:
C 1/A Slump cone
C 1/B Tamping rod
C 1/C Base plate
C2
Compacting Factor
BS 1881
This bst gives an accurate indication of the workability
of concrete, It is particularly suitable for mixes with
limibd workability that have maxim u m aggregates
size of 38 mm diameters. The equipment consists
of 2 conical hoppers with quick opening traps that
allow the concrete to fall freely. A mould mounted
on the base receives the mix. Comes with tamping rod.
C3
Concrete Flow Table
BS 1881,BS EN 12350-5
Used for determining the consistency of concrete
with flow measurements between 360 and 600 mm.
Table size 700 x 700 x 2 mm. Comes with steel cone,
wooden tamper 40 x 40 mm tamping fuce and metal ruler.
Spares:
C 3/A Cone
C 3/B Wooden tamper

Related
Products