ASPHALT-PREMIX - II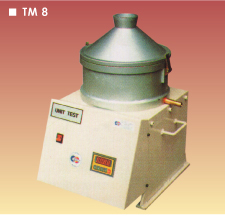 Category: ASPHALT-PREMIX, BITUMEN
SKU: ASPHALT-PREMIX - II
Product
Info
Description
Specification
Standard: BS 598, EN 12697
TM 7 Automatic Marshall Compactor Apparatus
For 4" specimens,it automatically compacts the bituminous sample
and automatic stop when the preset number of blows has been
completed on the portable digital preset counter. It consists of
mould clamping device, laminate hardwood block mounted on the
concrete base and built-in safety door. When door opened,the
marshall compactor will stops automatically.
SPECIFICATION
- Hammer weight: 4.535kg
- Hammer drop: 457mm
- Hammer diameter: 99mm
- Approx weight: 230kg
- Power: 240kV, 50Hz. 1ph
- Approx diameter: 600 x 610 x 1900mm
TM 7-01 ASTM D 1559 Automatic Marshall Compactor identical to
TM 7 but without concrete base
TM 7-02 Sound proof cabinet for noise reduction. Suitable for all
model Unit Test Marshall compactor
TM 7-03 Filter paper 100mm diameter-pack of 100pcs
TM 7-04 Filter paper 150mm diameter-pack of 100pcs
Standard: EN 12697-34, 13108,
ASTM D1559, 5581
Heating Water Bath
Ideal for laboratory use and built-in digital controlled LED display
used to maintain constant water temperature at 60°c ±0.5°c. Internal
tank and cover made of stainless steel and outer made of anti-heat
protection insulation. Supplied with stirrer, analogue dial gauge,
thermometer -10 to 110°c and peforated stainless steel shelf.
| | | | |
| --- | --- | --- | --- |
| Model | UW-1 | UW-2 | UW-3 |
| Capacity (litres) | 23 | 30 | 48 |
| Internal Dimension (mm) | 350 x 300 x 220 (H) | 450 x 300 x 220 (H) | 600 x 300 x 220 (H) |
| Controller | Digital readout | Digital readout | Digital readout |
| Temperature Range (°C) | 0-100°C x 0.1°C | 0-100°C x 0.1°C | 0-100°C x 0.1°C |
| Power | 240v x 50Hz x 1pH | 240v x 50Hz x 1pH | 240v x 50Hz x 1pH |
| App. Weight (kg) | 9 | 15 | 18 |
Standard: ASTM D2172, EN 12697, 13108
TM 8 Centrifuge extractor 1500g capacity
for determining of bitumens % in bituminous mixtures, consists of a
selectable speed digital control that automatic fast stop bowl rotation at the
Power: 240V, 50hz, 1ph
TM 8-01 Identical to TM 8, but with 3000gm capacity and
rotation speed 2600rpm
SPARES:
TM 8-02 1500gm bowl and cover, aluminium
TM 8-03 3000gm bowl and cover, aluminium
TM 8-04 Methylene Chloride, 206 litres per drum
TM 8-05 Filter paper for 1500g extractor use-pack of 50pcs
TM 8-06 Filter paper for 3000g extractor use-pack of 50pcs
Standards: BS 598, EN 13108, 12697-12,
EN 196, ASTM C109, EN ISO 679, EN 136,
138, 139, BS 4550
Cooling Bath
UW-4 Identical to UW-1 but with cooling device and temperature
selectable from 5°c to 25°c
UW-5 Identical to UW-2 but with cooling device and temperature
selectable from 5°c to 25°c
UW-6 Identical to UW-3 but with cooling device and temperature
selectable from 5°c to 25°c
Related
Products