PUNDIT LAB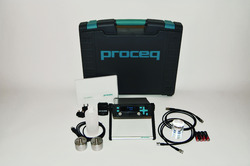 Category: CORING, CUTTING AND NDT
SKU: NON-DESTRUCTIVE TESTING
Product
Info
Description
Specification
THE MOST VERSATILE ULTRASONIC PULSE
VELOCITY TEST EQUIPMENT FOR CONCRETE
Featuring on-line data acquisition, waveform analysis and
full remote control of all transmission parameters
PUNDIT LAB
Part number: C 41 (Replace TICO)
Pundit Lab consiting of: Display unit, 2 transducer (54
kHz), 2 BNC cables 1.5m, couplant, calibration rod 25 us,
USB charger with USB-cable, 4 x AA (LR6) batteries, data
carrier with software, documentation and carrying case.
Parts and Accessories
C 41-01 Carrying case
C 41-02 Transducer 24 kHz
(Two required for operation)
C 41-03 Transducer 54 kHz
(Two required for operation)
C 41-04 Transducer 150 kHz
(Two required for operation)
C 41-05 Exponential transducer 45 kHZ
(Two required for operation), waveform
display required
C 41-06 Amplifier for long cables (>10 m)
and exponential transducer
C 41-07 Cable with BNC-plug, L=1.5m (5ft)
C 41-08 Cable with BNC-plug, L=3.0m (10ft)
C 41-09 Cable with BNC-plug, L=10m (33ft)
C 41-10 Cable with BNC-plug, L=30m (98ft)
C 41-11 Ultrasonic couplant, 250ml bottle
C 41-12 Calibration rod 25 us for Pundit
C 41-13 Calibration rod 100 us for Pundit
C 41-14 USB cable 1.8m
C 41-15 USB charger, global
EN 12504-4 (Europe)
ASTM C 597-02 (UK)
ISO 1920-7 2004 (International)
IS1311 (India)
TORRENT Permeability Tester
The permeability of concrete at the surface is a major factor determining the durability of concrete structures.
The permeability coefficient which is determined completely nondestructive by the instrument correlates well with the results Of destructive methods that give information on the ingress of harmful substances.
In the TORRENT Permeability Tester, a two-chamber vacuum cell
provides exactly defined measurement of cover concrete to determine
durability. A pressure regulator assures accuracy by eliminating
atmospheric airflow to the measuring chamber. Data is automatically
collected by the display unit.
Measurements can be transferred to a printer or to a PC for detailed
analysis and evaluation.
Ordering Information
C 42
Includes
TORRENT Permeability Tester
Display unit, pressure/vacuum control unit, data transfer
cable, printer cable, carrying strap, carry cases and
operating instructions (Note: Vacuum pump required for
operation, but not included)
C 42-01 Vacuum pump with 1.5m3/h suction capacity and 10mbar
final total pressure required for system operation not
included with system. Purchase separately.
Accessories
C 42-02 WENNER-PROCEQ Resistance probe with cable
Related
Products