NON-DESTRUCTIVE TESTING - II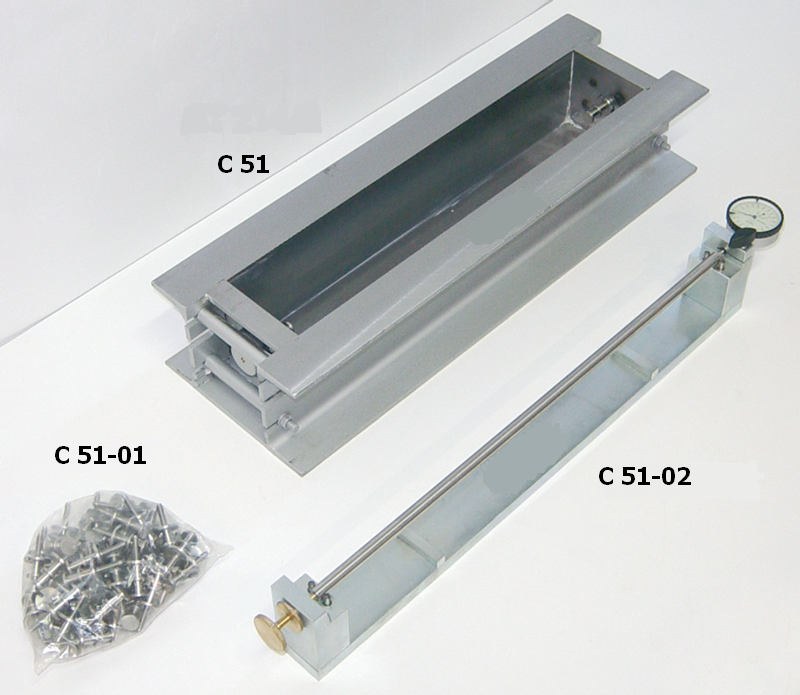 Category: CORING, CUTTING AND NDT
SKU: NON-DESTRUCTIVE TESTING
Product
Info
Description
Specification
CRACK WIDTH GAUGES
For the constant Checking, measuring and recording of all
types of cracks, fissures and joints. This is an economical
instrument, simple and precise, which measures displacement
between 40 and 0.5 mm. It is attached to the fissure to be
checked and the grid indicates any displacement; forms are
supplied for taking note of displacements.
Dimensions: 150 x 30 x 5(h) mm. Weight: 50 g.
C 49 STRAIGHT CRACK WIDTH GAUGE
C 50 PORTABLE WATER PERMEABILITY
TEST KIT, FOR CONCRETE
The kits includes: complete pressure head, clam ping pliers
and anchoring tools, two bottles of distilled water.
The pressure head is clamped to the concrete surface either
horizontally or vertically and is filed with water; sealed and
then adequate pressure is applied.
The pressure may be chosen between 0 and 4 bar.
Readings on the gauge are effectuated at pre-established
intervals.
Dimensions: 410 x 360 x 100 (h) mm.
Weight: 6.5 kg.
CONCRETE SHRINKAGE
UNI 6555 - ASTM C 426
The test is for determining hydraulic axial shrinkage of
concrete, using max. 30 mm dia. aggregates.

C 51 STEEL SHRINKAGE MOULD
100 x 100 x 500(h) mm
Supplied complete with two inserts
C 51-01 Spare inserts far C 51 (50 pieces)
C 51-02 For 100 x 100 x 500 (h) mm specimens
Calibration bar and 0.001 division
dial gauge
C 52 MICRO-CORING EQUIPMENT
Micro-core samples are extremely useful for verifying
structures especially since their extraction does not cause
any damage due to the dimensions of the holes (which, in
any case, can be filled with mortar).
The test is easily performed and only requires the presence
of one operator. The drilling jig, the self-blocking pincers and
the bit guide device all contribute to guarantee correct and
accurate sampling.
The equipment is water-cooled and the tank is pressurised
via a foot pump.
The kits consists of:
- 2 speed electric hammer-drill (220V, 50hz, 1 ph)
- Bit guide device
- Water tank with foot pump
- 2 impregnated diamond bits, 28 mm (inner dia.), 35 mm
(outer dia. with different lengths for 100 and 200 mm
cores.
- 2 self-blocking pincers for securing the guide device
- Series of blocks, screws, bits and wrenches for use with
the equipment.
Related
Products