AUTOMATIC TWIN FRAME TESTING MACHINE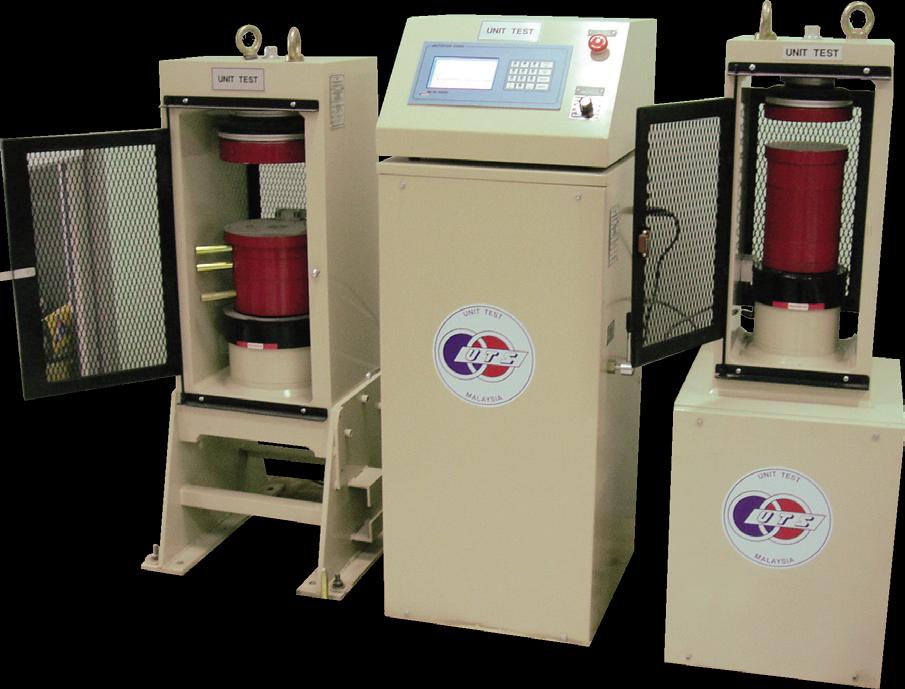 Category: CUSTOM MADE COMPRESSION TEST MACHINE
SKU: AUTOMATIC TWIN FRAME TESTING MACHINE
Product
Info
Description
Specification
CEMENT & CONCRETE
AUTOMATIC TWIN FRAME & COMPRESSION MACHINE FOR CONCRETE AND CEMENT TEST
Standard: B.S. 1881, BSEN 12390 Annex A or B, EN-196-1, ASTM E4, BS 4550, ASTM C-109
These automatic compression test machine with control console unit are designed to test the concrete and cement in one automatic control accordance to the above relevant standard. The 250kN or 300kN cement test frame can be fixed to any of the unit test digital concrete test machine by using the second channel of the same digital readout unit which is supplied as standard.
General Specification
· Specimen to be test 150, 100, 70.7, 50mm and 40mm cube sample and 150mm and 100mm diameter cylinder and 40 x 40 x 160mm prism sample.
· Concrete measurement range from 50 to 2000kN, 2500kN, 3000kN or 4000kN cement measurement range from 2 to 250 or 300kN
· Compression/flexural fig. for testing 40 x 40 x 160mm prism specimen are supplied as optional
· Concrete range: 0-400kN x 0.1kN, 400-2000kN, 2500kN, 3000kN, or 4000kN x 1kN
· Cement range: 0-250 or 300kN x 0.01kN
· ADS 200/25EN, ADS 250/25EN, ADS 300/25EN
· 250kN cement frame
· Weld frame and 4 column frame
Available Model:
ADS 200/25EN Automatic Twin Frame 2000/250kN Concrete/Cement Compression Test Machine
ADS 250/25EN Automatic Twin Frame 2500/250kN Concrete/Cement Compression Test Machine
ADS 300/25EN Automatic Twin Frame 3000/250kN Concrete/Cement Compression Test Machine
General Specification:
Load Frame Capacity

250kN (cement)

2000kN (concrete)

2500kN (concrete)

3000kN (concrete)

Frame Dimension(mm)

400 x 400 x 1500(H)

400 x 420 x 1400 (H)

410 x 420 x 1400 (H)

450 x 520 x 1800 (H)

Control Console(mm)

450 x 450 x 1500

Max Vertical Clearance(mm)

250

320

320

330

Max horizontal Clearance(mm)

200

310

320

360

Top/Lower Platen diameter(mm)

160

240

240

300

Ram Travel(mm)

40

50

50

50

Power

240 x 50Hz x 1pH

Weight (kg)

300

950

1050

1600
Related
Products