MIXING AND MOULDING EQUIPMENT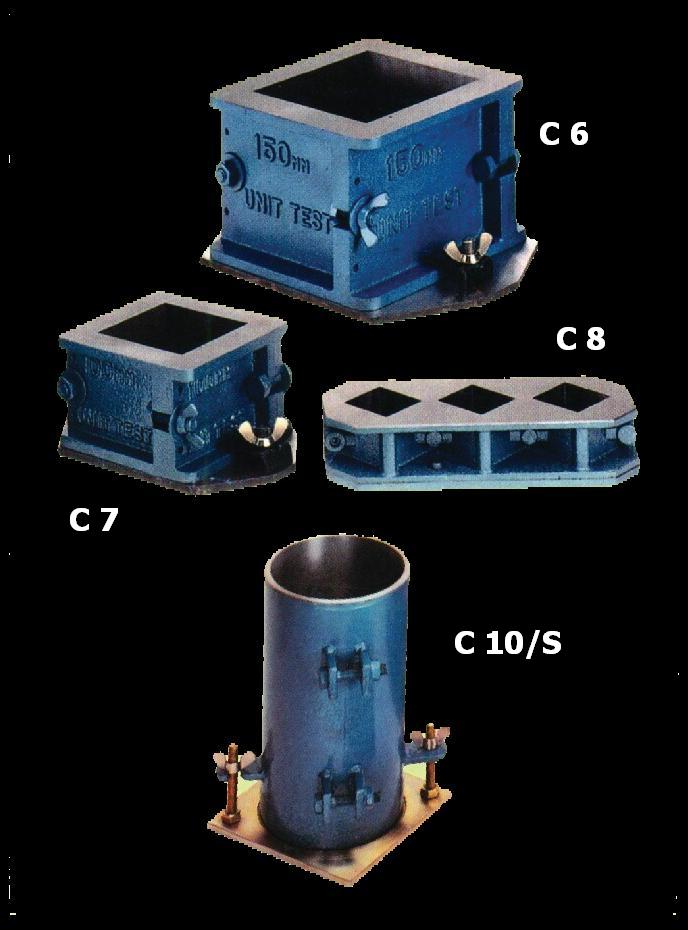 Category: CUSTOM MADE COMPRESSION TEST MACHINE
SKU: CEMENT & CONCRETE - I
Product
Info
Description
Specification
MIXING AND MOULDING EQUIPMENTS
BS 1881: DIN 51229, BS 1881: Part 109, BS 1881: Part 110, BS 4550
CAST IRON MOULDS
C 6 Cube mould with clamp, base pate and 150mm x 150mm side
Weight: 16kg
C 7 Cube mould with clamp, base pate and 100mm x 100mm side
Weight: 10kg
C 8 3-gang mould with clamp, base pate and 50mm x 50mm side
Weight: 7.5kg
C 9 Cylinder mould 100mm diameter x 200mm (H)
Weight: 15kg
C 10 Cylinder mould 150mm diameter x 300mm (H)
Weight: 20kg
C 11 Cylinder mould 160mm diameter x 320mm (H)
Weight: 25kg
STEEL BEAM MOULDS
C 9/S
Cylinder mould 100mm diameter x 200mm (H)
Weight: 15kg
C 10/S
Cylinder mould 150mm diameter x 300mm (H)
Weight: 18kg
C 11/S
Cylinder mould 160mm diameter x 320mm (H)
Weight: 21kg
STEEL BEAM MOULDS
C 12
Beam mould with clamp, base pate.
Size: 150mm x 150mm x 750mm
Weight: 70kg
C 13
Beam mould with clamp, base pate.
Size: 100mm x 100mm x 500mm
Weight: 37kg
C 14
Tamping bar 25mm square
C 15
Mortar cube mould 70.7mm side with base plate
ELECTRICAL VIBRATING TABLE (Concrete)
Designed to suit compaction concrete into cube or beam mould
complete with timer controller 0-60 minutes.
Power: 240V, 50 Hz, 1ph
C 16
Table size: 1000mm x 700mm for 8nos 15cm cube.
C 17
Table size: 800mm x 600mm for 4nos 15cm cube.
C 18
Table size: 600mm x 450mm for 2nos 15cm cube.
Related
Products