COMPUTER CONTROLLED FOUR FRAME AUTOMATIC COMPRESSION, FLEXURAL & TENSILE TESTING MACHINE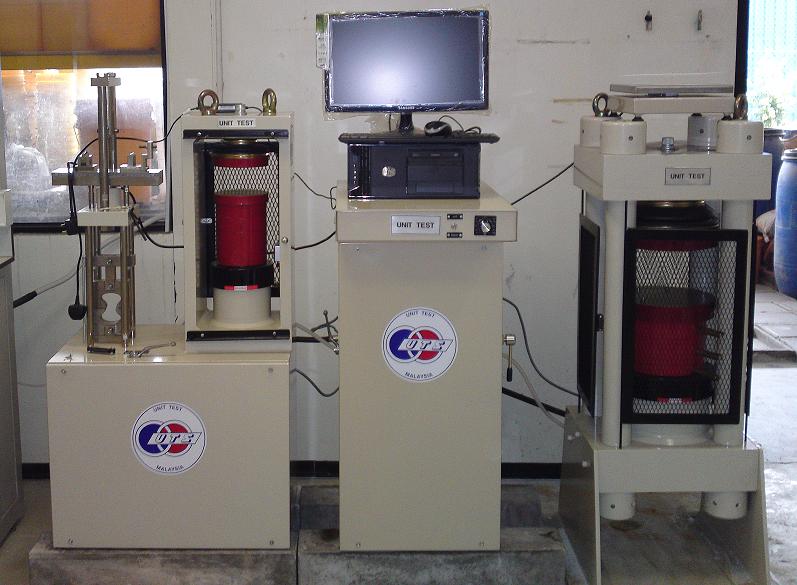 Category: CUSTOM MADE COMPRESSION TEST MACHINE
SKU: COMPUTER CONTROLLED AUTOMATIC COMPRESSION, FLEXURA
Product
Info
Description
Specification
CUT 200/25/10ENT-4
Computer controlled 4 frames automatic compression / flexural / tensile test machine
designed for concrete and cement mortar samples. Instead of having 4 individual
machines to perform the test for various samples, UNIT TEST has produced a brilliant
and very cost effective solution by combining all the test frames into one single machine.
The user can easily switch from one frame to the other by just a single click on the
computer. With built in safety features, the user do not have to worry anymore about
forgetting to switch frames manually. Standard meet to BS EN 196-1, BS EN 12390-4
o fAnnexA (optional) or Annex B, ASTM C109 and BS 4550.
This customised and multi purpose compression machine consists of the following
test frames:-
1) 1500 12000/ 3000 l 4000 kN compression test frame for testing of 100 mm or
150 mm concrete cubes and 100 mm diameter x 200 mm height, 150 mm diameter
x 300 mm height or 160 mm diameter x 320 mm height concrete cylinders.
2) 250/ 500 kN compression test frame for testing of 40 mm or 50 mm or 70.7 mm
mortar cubes. Also suitable for testing of small cores with height of less than 100 mm
diameter.
3) 10 kN flexural test frame for testing of 40x40x160 mm mortar prism
4) 10 kN tensile test frame for testing of standard ASTM briquet mortar samples
Related
Products