DRYINGS OVEN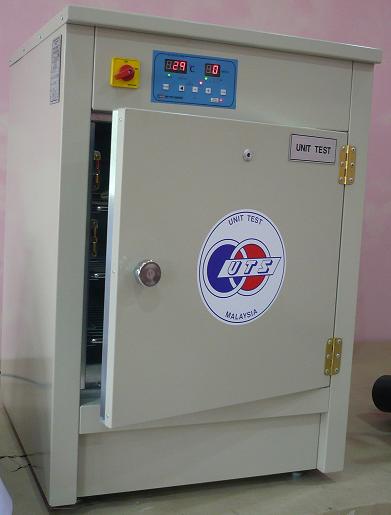 Category: AGGREGATES, ROCK AND SAND
SKU: AGGREGATES AND SAND - II
Product
Info
Description
Specification
Thermostatic Control Oven
ASTM C 127, C 136, D 558, D 698, D 1557, D 1559, EN 932-5, EN 1097-5, BS 1377, BS 1924
Laboratory ovens, specially designed for drying, baking, conditioning and moisture determination and etc.
Coated with hard-wearing paint on outer casing, internal galvanised as standard and stainless steel or aluminium also available upon request.
Heat generated by 'Precision Thermal Elements' which are positioned below floor chamber.
Operating temperature range from 40° to 200° C or higher upon request.
Optional: Dial thermometer 0-250° C can be position at front panel.
Complete with stainless steel shelves that can be position at various height and weight (minimum 5kg sample), analogue thermostat (2 units) for precision temperature setting, on/off switch, pilot light.
Double-wall, sturdy, with 50mm thick glass fibers insulation.
D series identical similar to analogue model but fitted with Digital Readout and built in timer as standard.
Optional: For analogue model only, timer controller 0-24 hours or higher upon request.
All supplied complete with factory calibration certificates upon request.
Others sizes alvailable upon request.
All supplied complete with factory calibration certificates
General specification
| | | | | |
| --- | --- | --- | --- | --- |
| Model | U 1 | U 2/F | U 3/F | U 4/F |
| Capacity (litre) | 53 | 120 | 225 | 425 |
| External Dimension (mm) H x W x L | 803 x 592 x 460 | 900 x 625 x 700 | 1037 x 1098 x 566 | 1130 x 1125 x 781 |
| Internal Dimension (mm) H x W x L | 350 x 450 x 330 | 440 x 475 x 570 | 570 x 957 x 435 | 680 x 980 x 645 |
| Temperature Range (°C) | 40-200 | 40-200 | 40-200 | 40-200 |
| Power Rating (w) | 1000 | 2100 | 2100 | 3000 |
| Shelves Supplied | 2 | 3 | 3 | 4 |
| Fan Supplied (Blower) | Optional | Fan | Fan | Fan |
| App. Weight (kg) | 45 | 60 | 90 | 140 |
| Power | 240V 50Hz 1ph | 240V 50Hz 1ph | 240V 50Hz 1ph | 240V 50Hz 1ph |
Related
Products