AGGREGATES AND SAND - II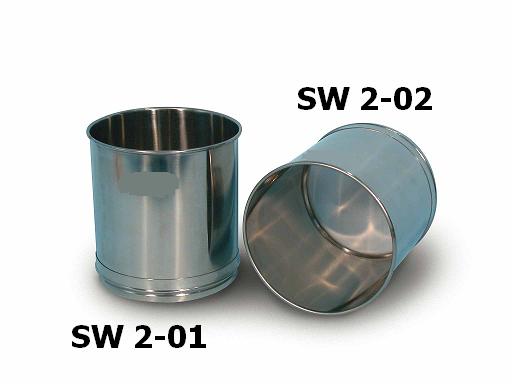 Category: AGGREGATES, ROCK AND SAND
SKU: AGGREGATES-SAND
Product
Info
Description
Specification
Wet washing sieves
STADARD: ASTM E 11
Used for wet sieving of fine granuled materials.
Frame and woven wire cloth are stainless steel made.
Frame dimensions: Dia. 200mm by 200mm height or
100mm height also available.
MODELS:
SW 2-01 Cloth opening 75um
SW 2-02 Cloth opening 63um
Wet sieving pan+lid stainless steel
The water enters through the spray nozzle mounted on top of the
lid and comes out with fines from the pan. Supplied complete with
two watertight seals.
| | |
| --- | --- |
| Model | Set of 10 watertight seals |
| SW 2-03 Pan + Lid, dia. 200 mm | SR 2-01 |
| SW 2-04 Pan + Lid, dia 8" | SR 2-02 |
| SW 2-05 Pan + Lid, dia. 300 mm | SR 2-03 |
| SW 2-06 Pan + Lid, dia. 400 mm | SR 2-04 |
B 1-01 Bristle Brush, soft hair, 35mm dia.
B 1-02 Double ended, brass and nylon bristle
B 1-03 Double eneded soft/hard nylon
B 1-04 Soft hair Brush,
3mm dia. BS 812
B 1-05 Hard nylon sieve
Brush, flat 60mm
| | | | | |
| --- | --- | --- | --- | --- |
| | Dia 200 mm | Dia 300 mm | Dia 450 mm | Dia 12" |
| LID | L2 | L 2-01 | L 2-02 | L 2-03 |
| RECEIVER | R2 | R 2-01 | R 2-02 | R 2-03 |
R3
Ultrasonic cleansing bath
For cleaning of sieves which could be damaged
by ordinary cleaning methods, it is particularly
suitable for fine mesh sieves. The bath
accepts sieves up to 250mm diameter.
Supplied complete with timer 0-15
minutes.
Internal diameter 260mm height 180mm
Capacity: 10 litres
Stainless steel made, with incor-
porated electronic generator,
frequency 38 KHz.
Power supply: 230V 50Hz 1ph 300W
Weight: 8Kg
Related
Products