AGGREGATES AND SAND VIII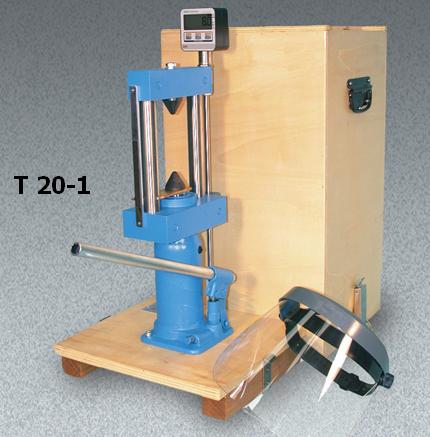 Category: AGGREGATES, ROCK AND SAND
SKU: AGGREGAES AND SAND
Product
Info
Description
Specification
T 18
Skid Resistance Tester
BS 812, ASTM E303, EN 1097-8
Used to measure road surface frictional. Energy loss can be measure when a
rubber slider edge is propolled over the surface under test. The tester supplied
complete with setting gauge, 6 rubber slidders, spanners, water bottle, tools
and carrying case.
Dimension (In case): 810mm x 660mm x 300mm approx.
Weight: 35kg appro.
T 19
Accelerated Polishing Machine
BS 812 Part 114, EN 1097-8
Used to measure the resistancy of road aggregates to the polishing action of
vehicle tyres on road surface. Road wheel can accept 14 nos of specimens which
are manufactured with suitable moulds. The wheel rotates enters in contract
with solid rubber tyre, spring loaded. Abrasive charges are continuously fed
by mechanical feeders at consistant speed. Flown emery loaded through an
opening and water supplied through a water container. The machine can be
use together with a Skid Resistance Tester in Laboratory provides a method of
preparing polished stone specimens. Supplied complete with 4nos of moulds.
Power: 220-240V, 50Hz, 1ph
Dimension: 1530mm x 750mm x 750mm approx.
Weight: 180kg approx.
T 20
Point Load Tester
Determination the strength value of rock sample either at site or in Lab. It
consists a load frame with maximum load of 55kN mounted together with a
hydarulic jack. Maximum size of sample is 4" diameter which loaded by two
coneshaped points. The apparatus has 2 gauges where the loads are applied
can be get directly in two range: 0-55kN x 0.1kN and 0-55kN x 1kN. Supplied
complete with one wooden carrying case.
Dimension: 620mm x 350mm x 550mm (H) approx.
Weight: 40kg approx.
T 20-1
Point Load Tester, identical to above but with digital readout and RS 232 serial
port for interface to computer or printer.
Related
Products