AUTOMATIC ASPHALT (BINDER ANALYSER)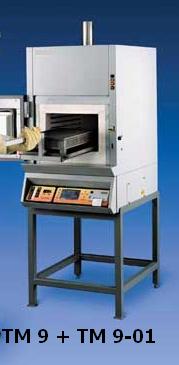 Category: ASPHALT-PREMIX, BITUMEN
Product Code: ASPHALT - PREMIX, BITUMEN
TM 9
EN 12697-39
This apparatus combines a sophisticated furnace and weighing
system to continuously measure weight loss during combustion,
then automatically calculate binder content at the end of the test.
Considering the high temperatures involved (the furnace may reach
a temperature of 750°C) the apparatus is equipped with suitable
safety systems to ensure that the furnace door is kept shut during
the test and that the heating elements are deactivated any time
the door is opened.
Analysis can be made on a sample of maximum 4.5 kg and most
tests are completed in 30 to 45 minutes.
An independently controlled afterburner with exhaust fan and
vent reduces emissions so low that no aspiration hood is needed.
An RS 232 serial port allows the apparatus to be connected to an
external optional balance.
A large, easy-to-read, back-lit digital display updates all data in
real-time.
At the end of the test an alarm sounds, the door is unlocked and
a the results are printed; the printer may also be programmed to
print data at minute intervals while test in is in progress.
The apparatus is supplied complete with:
TM 9-02 1 digital balance 8100 g (0,1 g)
TM 9-03 2 sample basket assemblies with lid and support frame
TM 9-04 1 metal handle for loading baskets in furnace
TM 5-05 1 metal safety cage for containing baskets for cooling
after extraction from furnace
POWER SUPPLY: 220 V 50 Hz 1ph, 8000 W.
DIMENSION: 600 x 750 x 1160 (h) mm.
CHAMBER DIMENSIONS: 220 x 350 x 450 (h) mm.
WEIGHT: 120 kg (approx).
NOTE: Support bench can be order separately

Accessory:
TM 9-01 Support bench for TM 9