ASPHALT-PREMIX - I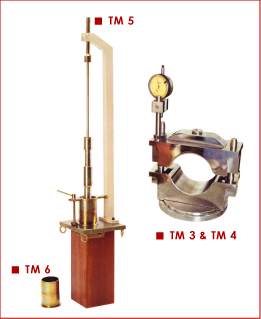 Category: ASPHALT-PREMIX, BITUMEN
Product Code: ASPHALT-PREMIX - I
TM 1 50kN MOTORISED MARSHALL TEST MACHINE
The Marshall Compression Test Machine to performe a defined speed on a standard specimen, measuring the maximum load and maximum flow deformation. The machine are designed at a constant speed of 50.8mm |2") per minute, through a gear motor and fitted with safety device unit switch to prevent over travel of maximum and minimum cylinder stroke.
The machine also can be fitted with optional digital 7' type 25kN load cell and displacement tranducer via digital display scanner unit. The purpose of these is to replace the conventional dial guage type which are difficultly to red accurately synchronsing the flow measurement with that maximum peak load reading.
GENERAL SPECIFICATION
Max. platen travel: 75mm
Platen speed: 50.8mm/min
Capacity: 50kN
Power: 220-240V, 50Hz, 1 ph
Approx. weight: 80kg
Approx. dimension: 600 x 385 x 1045mm
Accessories Optional TM 1/A
25kN 7' load cell for load measurement
S 72/E Displacement tranducer 25mm x 0.01 mm for flow measurement
ACCESSORIES
TM2
Marshall digital scanner for display of flow and load measurement, built in with RS 232 serial interface connect to computer or printed for X-Y graph.
TM3
Stability mould (breaking head), open type made from steel with inside diameter of 4" to the dimension given in BS 598.
TM4
Flow meter |dial gauge) with 25mm travel in graduation of 0.01mm. Supplied with stopper unit.
TM 5 Manual Marshall Compactor BS 598, ASTM D1559
Comprises of compactor hammer, hammer guide, mould clamp and laminated hardwood block.
ACCESSORIES
TM 6
4" dia Marshall Mould with collar and base plate.
TM 6/A
6" dia Marshall Mould with collar and base plate.